4 Things About Traveling in Morocco
I'm a fairly seasoned traveler. I've solo traveled across the world in pursuit of photography. While traveling I'm usually positively engaged and loving life. Morocco was somewhat different. In retrospect I enjoyed the experiences. In country, it was stressful. Don't get me wrong — Morocco is gorgeous. Mountains, deserts and architecture; any one of them is a reason to visit. Overall, the people were friendly and accommodating. The food was great too (hello, tagine).
This post is going to deviate from the norm. It highlights positives and negatives from my trip. I don't want the negatives to deter anyone, but they are important factors to know.
1. Verbal Harassment is Real
Solo women and women in small groups will have verbal obscenities directed toward them, especially at night. It happens. It's annoying. Honestly, it's not the worst thing in the world. It's best to not give these guys any attention (including eye contact) and keep walking.
2. Essaouira is Beautiful
The laid back coastal city of Essaouira offered a nice change of pace from Marrakech and the whirlwind Sahara tour. I only allotted a day trip. This short amount of time is my biggest regret. The ocean scenery is gorgeous. The medina (old town) is a UNESCO World Heritage site. The citadel was featured on Game of Thrones. The shopping is easier because venders have a reasonable set price (or they start bargaining at a lower number than other cities). Also, the food is delicious. Check out a local restaurant, Vague Bleue. The meal was simple but so delicious that it became my favorite meal in Morocco.
3. Perverted Tour Operators Exist
This is the warning of which I was semi-skeptical. I've heard horror stories about many of the places I've visited. In my experiences, places with the worst reputations often have the friendliest locals and make tourists feel welcome. Despite an optimistic approach, I took precautions. Online suggestions were: Dress conservatively, don't make eye contact with or smile at men, and NEVER go off alone with a man. Accounts mention that women should beware of guides trying to seclude them on Sahara tours. There are reports of them taking women on "special" trips to see the stars and midnight hikes. The caution: when you're alone in the desert anything can happen…
On a 3-day tour to the Sahara my van was at capacity. The driver shuffled around 4 people to put me (reluctantly) in the seat next to him. Once everyone in the vehicle fell asleep, he groped me. He stopped when I protested. The incident somewhat sullied the trip and made me paranoid and untrusting. This happened in a crowded van, during daylight hours.
4. The Architecture is Amazing
From riads to kasbahs, Moroccan architecture is to be relished. In the tourist sense, riads are similar to boutique hotels or guesthouses. In the cultural sense, they're traditional residences. Riads have intricate and ornate details especially in the garden areas. Many have stunning pools, courtyards and terraces.
On the Sahara tour, I opted for a luxury camp option. While tents aren't traditionally considered architecture, the tents in my camp had concrete floors so I'm calling it that. The tents have private bathrooms that include showers with hot water. In the desert! To make it more amazing, the water pressure was the best out of all my accommodations.
Tips
· Street Doughnuts are a good idea for your taste buds and your wallet.
· Mobile Data is extremely useful in navigating the cities. Without data, a friend had to rely on and pay a child to walk her to the hotel when a tour operator dropped her in the wrong location.
· Go with the flow. This is the kind of place where things deviate from itineraries and expectations. It's not a bad thing. It's part of the charm.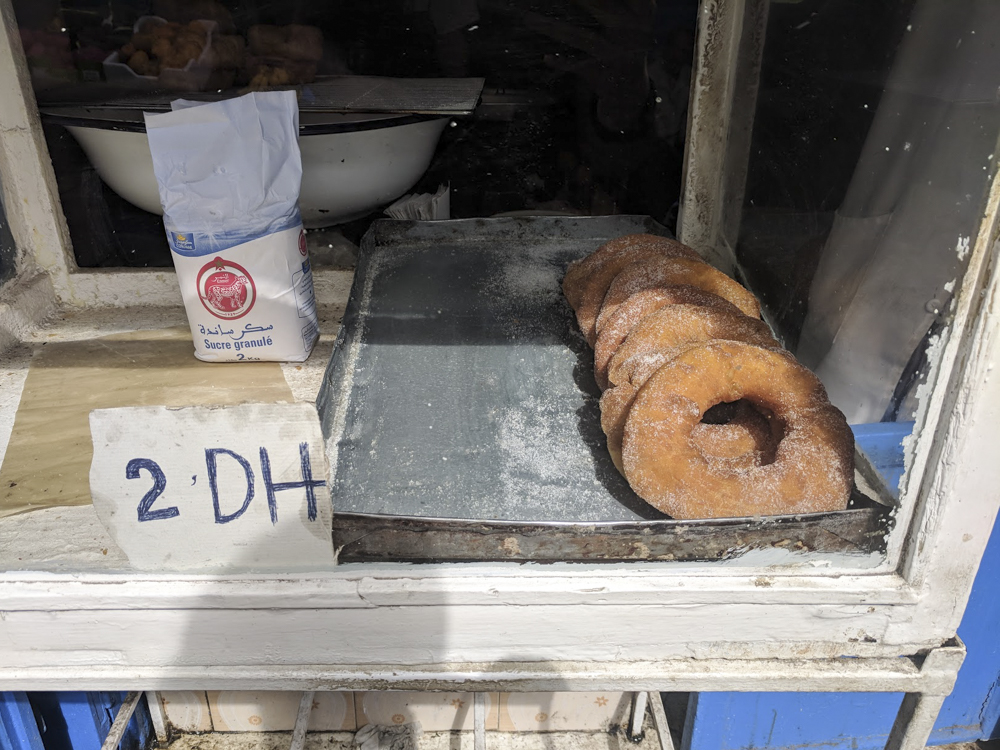 Street Doughnuts. 2 DH = $0.27 USD